Cosmetic Dentistry
The Smile You've Always Wanted is Right Here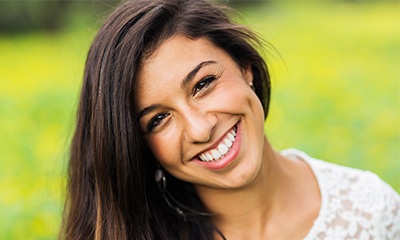 You're far from alone if you simply want a more attractive and confident smile. Countless studies have shown that when a person has pristine white teeth, people around them instantly judge them as more friendly and intelligent, even before they say a word! A beautiful smile is an extremely important asset in today's world of first impressions, and if you feel like yours is lacking, Angel Smile Dental Care is ready to help. Our cosmetic expertise can turn your dream look into reality just using the treatments below, and to get started, all you need to do is give us a call.
Why Choose Angel Smile Dental Care for Cosmetic Dentistry?
Every treatment is fully personalized for every patient
We can make any flaw disappear
Warm, friendly, & highly-experienced staff
Porcelain Veneers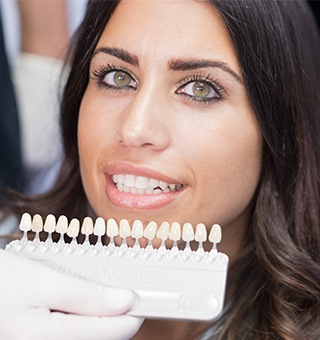 Whether you're looking for a minor touch-up or want to get a Hollywood-style smile, porcelain veneers can make it happen. For this procedure, extremely thin ceramic shells are bonded to the front of the teeth, allowing us to change their shape, size, and color to whatever a patient wants. Stains, chips, cracks, and gaps can all be taken care of at the same time with veneers, and better yet, the process to get them only requires two appointments.
Learn More About Porcelain Veneers
Lumineers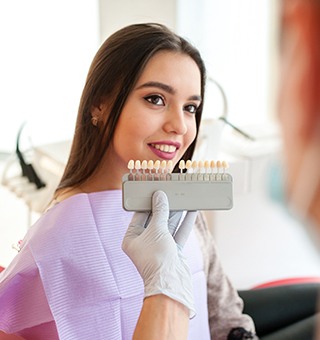 Lumineers are one of the quickest and easiest ways to dramatically transform your smile. Similar to porcelain veneers, thin coverings are placed onto the teeth, and they're able to mask multiple imperfections to create the perfect look. Unlike veneers, however, Lumineers go onto the teeth as is, allowing a patient to change their look without actually altering their teeth. Many patients appreciate this more conservative approach, and it's still able to deliver beautiful, lasting results.
Metal-Free Dental Restorations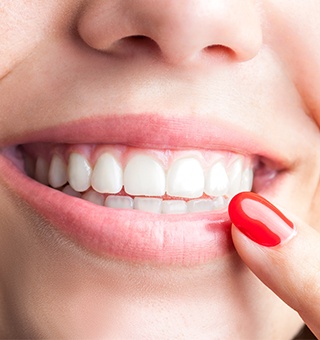 Metal-free restorations allow us to repair a tooth in such a way that it looks like nothing was ever wrong with it in the first place. Using crowns made of either E-Max or Zirconia (both extremely high-quality ceramic), we can fully restore damaged enamel and bring back its original appearance at the same time, creating something that seamlessly blends into the smile. In the end, only you and your dentist will know which tooth has been treated.
Dental Bonding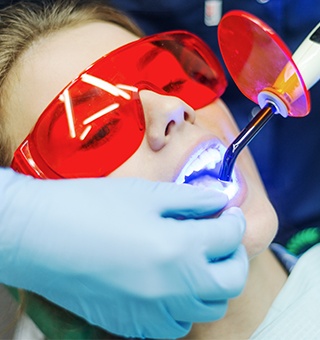 Imagine if your dentist could literally sculpt a problem tooth to perfection, and then imagine no more, because it's possible with direct bonding! A color-matched composite resin is applied directly to the enamel, and then your dentist can shape it to cover a minor stain, small chip, or thin gap. In just an hour or less, the procedure is done, your smile looks great, and you can look forward to the results lasting for up to a decade.
Teeth Whitening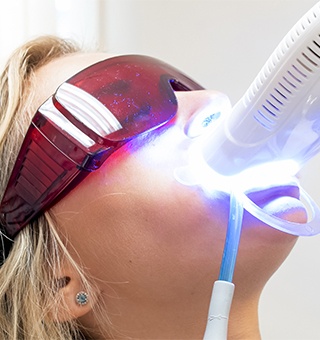 Nothing makes someone feel more self-conscious than noticeable dental stains, but with Ultradent teeth whitening, we can easily restore that long-lost luster to your grin. A powerful bleaching agent is able to literally break the bonds that hold dental stains together, allowing your teeth's natural whiteness to shine through. In just one appointment, we can easily make your teeth 6-8 shades brighter right before your eyes. And, if you prefer, we can even help you whiten at home with your own custom-made kit.
Gum Recontouring / Crown Lengthening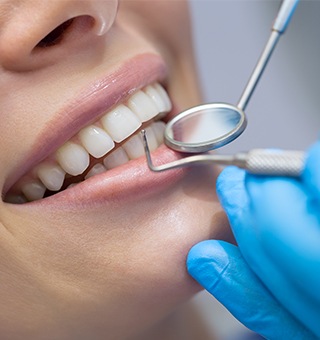 Would you say that you have a "gummy" smile in which your gum line shows more prominently than your teeth? This is a very common issue, and it's one that can actually lead to greater oral sensitivity and even a higher risk of gum disease. Thankfully, our team can use a soft tissue laser to painlessly remove any excess tissue to help the teeth look longer and create a more balanced smile.
Virtual Smile Design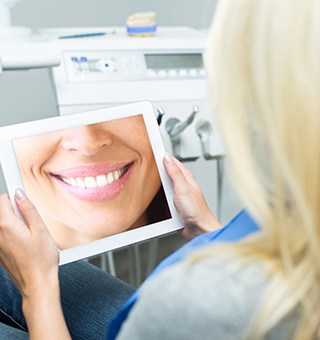 Virtual Smile Design allows you to look into the future and see the results of any cosmetic treatment you might be considering before you even sit in the chair. We simply take a picture of your current smile, and using advanced software, we can digitally edit it to show you how teeth whitening, porcelain veneers, or any other procedure will change your appearance. If you like what you see, we can proceed with your makeover. Or, if any adjustments need to be made, we can do them in seconds to ensure you'll love your results.